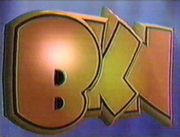 BKN
(the Bohbot Kids Network), formerly known as Amazin' Adventures and Bohbot Productions, was a syndicated animation block starting from 1990. It was created and distributed by Bohbot Entertainment, an animation production company founded by Allen J. Bohbot, and based in Germany.
Ghostbusters Related
Extreme Ghostbusters was shown on the Animated block during its one year run.
Background
Most of the animated television series featured on BKN were created and or produced by Bohbot, but also featured third party programming from DiC Entertainment, and Sony Pictures Television (in the case of Extreme Ghostbusters and the second and third seasons of Jumanji).
FOX, UPN and WB Affiliates aired this animated block from 1995 to 2000 (it also aired nationally for a brief time on the Sci-Fi Channel).
The BKN name is now used as the company's corporate name (BKN International AG), with its programming available for broadcast to various networks around the world.
Community content is available under
CC-BY-SA
unless otherwise noted.