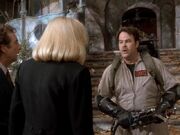 Casper is a 1995 live-action feature film, based on the Harvey Comics character Casper the Friendly Ghost. The ghosts featured in the film were created through computer-generated imagery.
The movie is notable as the third theatrically released film to feature the character of Ray Stantz as portrayed by Dan Aykroyd. Stantz is called in by the film's villains to rid a haunted house of its previous ghostly owners, but he is unable to do so saying, "Who ya gonna call? Someone else."
Aykroyd sports a mustache for this appearance. The possible explanation for this being some actors performing in cameos see it not reason enough to alter themselves for a short scene. Especially if the look is for another role they are currently devoted to.
External Links
Gallery
Community content is available under
CC-BY-SA
unless otherwise noted.