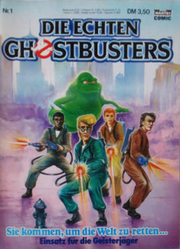 Die echten Ghostbusters is the German published comic series. It was based on The Real Ghostbusters Animated TV Show. It was translated and printed by Bastei Verlag. It appears to be a selection of The Real Ghostbusters Marvel Comics Ltd.
List of Comics
#01 "Sie kommen, um die Welt zu retten..." (They come to save the world...)
#02 "Der Wassergeist läßt grüßen" (The Water Spirit sends greetings)
#03 "Die Geisterfalle" (The ghost trap)
#04 "Der Spuk von New York" (The Haunting of New York)
#05 "Das Geheimnis der gespenstischen Doppelgänger" (The mystery of the ghostly doppelganger)
#06 "Frankenstein läßt grüßen" (Frankenstein sends greetings)
#07 "Schreie aus der Geisterbahn" (Cries from the ghost train)
#08 "Der Traum vom großen Geisterglück" (The dream of the great ghost luck)
#09 "Der Marshmallow-Geist schlägt zu" (The marshmallow ghost strikes)
#10 "Wenn die Monster leise kichern" (If the monster giggle quietly)
#11 "Der Spuk-Wirbel" (The Haunting vortex)
#12 "Geisterjäger groß in Fahrt" (Ghostbusters large momentum)
#13 "Die Riesen-Überraschung" (The Big Surprise)
#14 "Vor Geister-Mixgetränken wird gewarnt!" (Before ghost mixed drinks will be warned!)
#15 "Die unheimlichen Verfolger" (The eerie Followers)
#16 "Ein Kicher-Dämon hebt ab!" (A giggle-demon off!)
#17 "Grüße aus der Geisterfalle" (Greetings from the ghost trap)
#18 "Wenn die Geisterstunde schlägt" (When the witching hour strikes)
#19 "Blindflug durch das Grusel-Land" (Flying blind through the horror-land)
#20 "Ein dickes Monster macht sich dünne" (A huge monster makes thin)[1]
Also See
References
Gallery
Community content is available under
CC-BY-SA
unless otherwise noted.