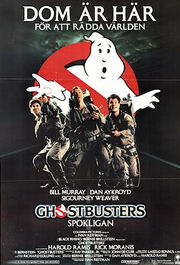 Ghostbusters - Spökligan
is the Swedish title of the
Ghostbusters
film. Alternate title is Ghostbusters.
Release and broadcast
The films was released in teather on 7 December 1984 and was distributed by Warner-Columbia Film AB.[1] The film has been broadcast many time on Swedish TV channels such as TV3, ZTV and TV4 Film.[2]
Sources
Cite error: Invalid <references> tag; parameter "group" is allowed only.
Use
<references />
, or
<references group="..." />
Script error
Cite error: <ref> tags exist, but no <references/> tag was found