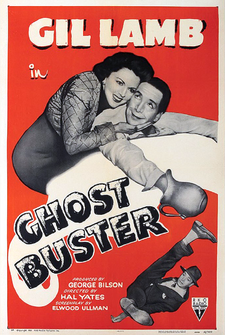 Ghost Buster was a short film released on 1952. It is believed to be the first film with the Ghostbusters title.
Plot
Slim, a window washer at the "Daily Record", has aspirations of becoming a reporter and marrying Betty, the city editor's secretary. When he hears of the disappearance of a town millionaire's nephew, he sets out, disguised as a nurse, for the millionaire's mansion to solve the case.
Background
The short film was part of a series of RKO films to feature Actor Gil Lamb with actress Carol Hughes being directed by Hal Yates. The series began off without Carol and was a bit more loose. Of the nine film shorts they did, the last four were released in 1953 unlike previous entries that mostly saw a once a year release (other than 1950). Hal Yates had likely banked on this series as previous star he liked to work with, Leon Errol had passed away in 1951. It was assumed that the series ended due to the RKO turmoil in 1953/1954.

The Series List:
Bashful Romeo (November 25, 1949)
Groan and Grunt (January 20, 1950)
Night Club Daze (November 24, 1950)
Fast And Foolish (November 1951)
Ghost Buster (March 07, 1952)
Fresh Painter (January 16, 1953)
Lost In A Turkish Bath (January 30, 1953)
And Baby Makes Two (February 27, 1953)
Pardon My Wrench (March 13, 1953)
Trivia
The title likely was derived from the term "ghost employees", more commonly known as "no-show employees" that might be hitmen paid without being acknowledged by name (an under the table job). The term "Buster" was from the commonly used "Gang Buster", a person who specializes in thwarting organized crime.
Elwood Ullman, Screenplay writer for the short went on to join the Bowery Boys to write their screenplays in 1953 starting with "Loose in London" and continued until the series ended in 1958.
External Links
Gallery