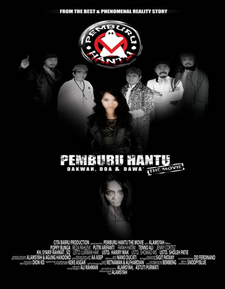 Pemburu Hantu The Movie (Ghost Hunters The Movie) is a 81 minute horror movie from Indonesia which was released on January 28, 2010. Distributed by Cita Barru Production and was Directed and Produced by Alamsyah. This movie is only in Indonesian language. It is not related to the sony franchise.
Introduction
All text is from the offline official press release of Laman Pemburu Hantu The Movie, however all text was copied to Indonesian Wikipedia.
If the house is abandoned and emptied over months or years, then do not blame, if the occupant is the supernatural beings. Only Pak Budi (Tenno Ali) and his son, Ikhsan (Randy Tanaya) who is always faithful to care for the stone house owned by Mrs. Ranty family.
That moment of Ranty stone house (Farah Hatim) mother from Vika (Poppy Flower), which has long been a gathering place unoccupied supernatural creatures. This should be felt by Vika, who often often overshadowed kahidupan Vika. Sister ngesot, Genderewo, kuntilanak, tuyul, and Pocong, home is always just disturbing. In addition, the home also did not keep the mystery revealed by Ranty. Ghost mothers often menteror residents embodiment Jin stone is a figure who inhabits the stone house. Even the existence of the body of Diana (Jenny Cortez) who always looks at the stone house there never known by anyone. Jin whispers and appeal to his human self that always tempt and deceive make Donna (Princess Arifanti) could not avoid the call to commit immoral acts, and threw himself from the balcony on to the death.
The presence of re-Team Ghost Hunters mere noble task to help fellow servant of God to liberate them from interference Jin. The mystery of what makes a house a home is a very creepy?. Team of ghost hunters uncover the mystery behind the house. And how Team Ghost Hunters evict these supernatural beings? Is this time they succeed?
External Links
Gallery
Community content is available under
CC-BY-SA
unless otherwise noted.