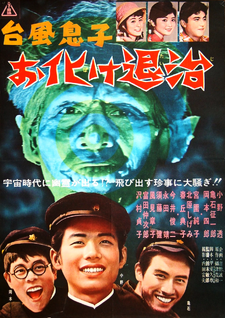 台風息子 お化け退治 (translated: Typhoon Son - Ghost Extermination) is a 1961 black and white Japanese film, which is part of the Typhoon Son film series. This movie is only known to be in Japanese. It is not related to the sony franchise.
Introduction
Text lifted and translated from Motion Picture Producers Association of Japan, Inc website.

In order to subsidize the cost of repairs of dilapidated bicycle hurricane issue, threesome Kusa-jo Teruhiko (hurricane), Yamamoto, Tetsuo (Suupaa), Akechi Issaku of (Hora Measures) to find a huge part-time job that three thousand yen per person answering the villa Immediately, I went to the house of the employer Harumi Ota. But every night ghost is that of infested in this villa. Teruhiko who is not hired to uncover the identity of the ghost. Three men arrived at the villa surprised to bat fly out noisily as soon as I opened the door of the villa timeworn. I ran away to a nearby lake to distraction. Had Taeko, Yoriko, Mizue is our good friend group by chance, had come to hike there. Hora measures Ya lonely invited to the villa ghost Taeko us persuasively. Well, that night, the second floor, Taeko we took a room each downstairs but, Teruhiko woke up in the middle of the night, the door of the room is opened without a sound, Teruhiko we have a spooky look of the skeleton in the darkness excluding. If you rush to the place of Taeko us to jump out the room intently, Teruhiko you surprised, was shaking and Yoriko Mizue is hugging each other rather than the figure of Taeko. To find the figure that ugly vampire Dracula will suffer Taeko, Teruhiko that came out to the garden Kakaru beat of logs. A man wearing a mask of the Dracula, it is that of being in the basement of the villa boss in a little bit of gold bullion gang. Teruhiko knew that the police are multiplied by the bounty of five hundred thousand yen in gold bullion this gang. Teruhiko went down to the basement that there is a boss in disguise to Dracula.
External Links
Community content is available under
CC-BY-SA
unless otherwise noted.