This article is about the development and ultimate cancelling of Zootfly's version of Ghostbusters: The Video Game (named Ghostbusters game).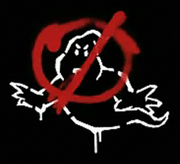 On January 10 of 2007,[1] Zootfly uploaded videos to YouTube that showed a Ghostbusters game in action for the Xbox 360. Though the tech demos were legitimate according to developer ZootFly, trouble with copyright issues arose as no license had been granted. By January 25, 2007 (15 days later) Sony had removed the YouTube videos by Zootfly related to Ghostbusters.[2] In order to avoid possible lawsuits, ZootFly changed the project name to TimeO and removed any ghostbusters related information.[3]
What is Known
The game was in development in May through July 2006.[4] It would have been based on the four Ghostbusters.[5]
References
External links
Gallery
In game Preview
Ecto-2 Images
Ghostbuster Heroes
Community content is available under
CC-BY-SA
unless otherwise noted.