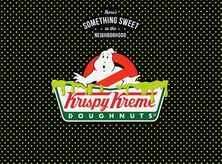 Krispy Kreme Ghostbusters Promotion is a promotion of the Ghostbusters 30th anniversary by the Krispy Kreme chain in Fall 2014.
History
As a marketing promotion for the Ghostbusters 30th anniversary, Krispy Kreme offered two kinds of marshmallow-filled doughnuts: the Ghostbusters Doughnut and the Stay Puft Marshmallow Doughnut. The Ghostbusters doughnut features white icing, a green splat inspired by Ectoplasm, and a "Ghostbusters" logo sugar piece. The Stay Puft Marshmallow was decorated with white icing, the Stay Puft Marshmallow Man's face and a sugar hat. They were offered between September 29 through October 31, 2014 at U.S. and Canada Krispy Kreme locations. Starting on September 23, customers were allowed to pre-order up to five dozen. [1]
Trivia
References
Gallery
30th Anniversary Promotion
Secondary Canon
Community content is available under
CC-BY-SA
unless otherwise noted.