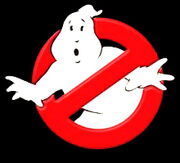 The No-Ghost Sign has been being used for the franchise in one form or another since it started with the first film in 1984.
Development
The logo design is loosely based on the no signs of Europe. While Europe had the logo to the upper left, the rest of the world had the logo to the upper right. Dan Aykroyd conceived the logo in his original Ghost Smashers script. The art direction and final design was done by Michael C. Gross.[1] He tweaked the shape of the Icon ghost.[2] Michael Gross went to Brent Boates, one of the artists already working on concepts for the movie, to help with the design.[3][4]
Lawsuit
Despite the final design avoiding an overt resemblance to Casper and related characters,[5] Harvey Famous Cartoons sued Columbia Pictures over the use of the emblem, which bears some resemblance to "Fatso"[6], one of the characters in Casper's Ghostly Trio. The suit was for 50 million[7], plus the destruction of all Ghostbusters film prints, however it was dropped in 1986.[8]
Uses
Official
Ghostbusters II
The logo was redesigned for the second film to giving it a different identity from the first film. The animated logo seen in the first chapter of the film shows it having both legs, which wasn't quite the same as the design used later in the film which had the ghost not showing it's right leg at all.
The Real Ghostbusters
Like the movies the No-ghost sign is used all throughout the series. However, the Icon Ghost is shown in the first and second intros, bumpers, and The Real Ghostbusters Pilot.
For more info on the Icon Ghost, click here.
Unofficial/Spoofs
For Unofficial/Spoofs of No-Ghost Signs information, please go to Unofficial No-Ghost Logo Parodies article.
References
Gallery
Overall
Ghostbusters Uses
Ghostbusters
Ghostbusters II
Ghostbusters (2016)
Fatso
All four screen caps are from animated short "Fright from Wrong" by Paramount Pictures' Famous Studios.