Spook Central is one of the oldest of the Ghostbuster fan sites, well known for coverage of deleted scenes in the films and archived scripts. The site's webmaster is Paul Rudoff, who was a design consultant and a contributor of research and art materials for the The Real Ghostbusters DVD Box Set. The Real Ghostbusters scripts and equipment designs featured on Spook Central were used in the for the box set.[2][3]
History
Currently this history is quite incomplete. So we encourage visiting Paul's Website Archives page.
Spook Central was started in August 1996 at the url http://www.geocities.com/Hollywood/7218/.[4]
Egon's Workshop, a separate project between Paul and Ghostbusters Headquarters webmaster Troy Benjmain, was opened in 1999. [5] It only stayed open for a couple of years.
At some point the site moved to http://www.realghostbusters.com/. The site itself was at http://prudoff.hispeed.com and also could be accessed at http://www.spookcentral.cjb.net.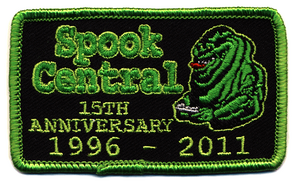 On August 12, 2010 for the 14th anniversary the site premiered a new site design by Tristan Jones, which featured seven site headers. Also Gozer temple as a background image was added.[6]
On August 1, 2011 the site offered for the 15th Anniversary an embroidered sew-on patch of the Logo design.
Features
Trivia
External links
References
Gallery