Nickolas Ashford instead of Ollie E. Brown?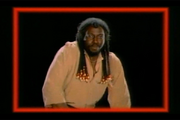 Ollie E. Brown has been noted a few times around, and this is the first time I've heard of Nickolas Ashford being the cameo. So the best we can do is ask that there be a reference given here. I'll shoot to do it myself, but really the person making the claim needs to prove their case.  Devilmanozzy (Talk Page)  21:32, August 2, 2012 (UTC)
Ollie E. Brown came from wikipedia, which lacks a reference. Seen many other sites avoiding this. Still looking for clear reference, but Nickolas Ashford is the guy.

 Devilmanozzy

(Talk Page) 

21:48, August 2, 2012 (UTC)

Castewar of Proton Charging posted this with the following text in comments on a Proton Charging: Ghostbusters Video-Rarities Clip-Mix!:

"I did the videos. And? When they were first made, over a year ago, the common wisdom (read: Wikipedia) was that it was Nick Ashford, which I accepted, as I was not familiar with Ashford and Simpson (other than the name and hearing a few of the songs.) I'm assuming the Ollie E Brown thing is relatively new, as the Wikipedia entry for the song lists Brown, while the entry for the movie still has Ashford. Having found this image, I agree, it's obviously Ollie (assuming Ollie is the guy on the Left); http://protoncharging.com/wp-content/uploads/2012/06/l.jpg This makes perfect sense, as both Ollie and Jerry were very involved with Ray Parker Jr. in Raydio (Ollie as a session drummer and Jerry as a founding member.) Ollie and Jerry were also very big at the time from their hit track from Breakin', but more importantly, Brown was a session artist on Ghostbuster with Ray Parker Jr. Nice spot, though Nick Ashford was in he early 40s in 1984, not 20. It's still not him in the video, but I'm just sayin'… To win the match, I will share that in my digging around, I discovered that Ollie was a writing contributor on one of Tahiti's tracks for The Real Ghostbusters. Thanks Spook Central! http://www.theraffon.net/~spookcentral/rgb_soundtrack01.htm"

So it stands that Ollie E. Brown is indeed proven to be the mystery man.

 Devilmanozzy

(Talk Page) 

22:10, August 2, 2012 (UTC)
Community content is available under
CC-BY-SA
unless otherwise noted.