Butler in GB2?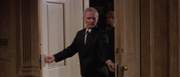 Not to be confused with the Doorman, The Butler works at Gracie Mansion as well. He is noted in the Feb 27th, 1989 script. Anyways, he appears in the film and is noted in a script and can briefly be seen in part three of RGB starring in GB2.  Devilmanozzy (Talk Page)  03:47, May 19, 2014 (UTC)
This is the character who opens the door for Mayor Lenny. I'm assuming what you want to do is create an article. Interesting to note in the script draft, the Doorman is non-existent and the Mayor was already in the study whereas in the movie, he enters the study with Jack and the Ghostbusters waiting inside. I suppose he should have an article. Okay. You got my vote. Mrmichaelt (talk) 04:36, May 19, 2014 (UTC)
Community content is available under
CC-BY-SA
unless otherwise noted.