Spelling of Child's name
The young brother's name is Len, not Leen. Here is a screengrab of the episode from the Region 4 dvd with English subtitles.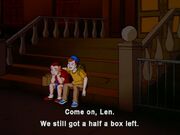 Mrmichaelt 05:41, June 26, 2011 (UTC)
This is likely to be a common thing as you have basically the script for the first thirteen episodes of Extreme Ghostbusters. Please continue as you did here with one screen grab with the subtitles on so people know. I'm glad that atleast we're getting clarity on this.  Devilmanozzy (Talk Page)  19:03, June 26, 2011 (UTC)

Agreed. Luckily/Unluckily, there aren't many instances of this in the first 13 episodes. Just the name of Achira's creator, Len, some artists' names from "The Infernal Machine" and I think the last thing I have to double check is the Salesman's real name. But it was great to have subtitles when my main goal was generating image galleries. Mrmichaelt 01:24, June 27, 2011 (UTC)
Community content is available under
CC-BY-SA
unless otherwise noted.