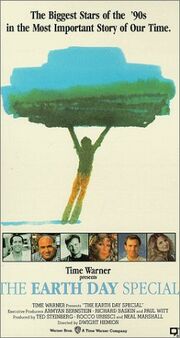 The Earth Day Special is a two-hour (100-minutes without commercials) primetime television special that aired on ABC on April 22, 1990 (the 20th anniversary of Earth Day). Among the celebrities that appeared was Harold Ramis, in the role of "Elon Spengler", Egon Spengler's supposed twin brother and President of Wastebusters.
In an interview with Downtown Julie Brown, Elon explains that they seek out Industrial perpetrators of the environment and humiliate them. While in the middle of the interview, a device in his pocket goes off, and he then chases after Nathan Thurm (played by Martin Short), legal spokesperson for Deversified Industries.
Plot
As taken from the back of the VHS release.
A fun-packed salute that makes a world of difference.
The biggest stars of the '90s take on the biggest story of the '90s in this informative blend of entertainment and cause. Rich in comedy, song and reports on the state of the planet, The Earth Day Special captures the excitement and commitment of Earth Day 1990 - and shares tips everyone can use to help solve the most urgent crisis the world faces today.
Mother Earth (Bette Midler) is ailing and it's up to folks in Anytown USA to help her recover. So Harold Ramis joins the Wastebusters. Robin Williams busts everyone up with one-liners, then plays straight man to an uproarious corporate weasel (Dustin Hoffman). Dr. Carl Sagan talks facts, Morgan Freeman talks trees and Rodney Dangerfield talks about the "ideal date" (organically grown). Rhea Perlman shanghais Danny DeVito into watching The Earth Day Special - and it opens Danny's eyes to the polluting ways of pals Dan Aykroyd, Chevy Chase and Rick Moranis. Plus, Christopher Lloyd drops in from the future, E.T. drops in from outer space and over 40 other celebrities - including Bill Cosby, Kevin Costner, Magic Johnson, Meryl Streep and Barbra Streisand - drop everything to aid Mother Earth.
Trivia
On page 19, panel 2, of Ghostbusters Annual 2015, in the upper left is "Call Elon," a nod to Elon Spengler.
On page 24 of Ghostbusters Annual 2018, In panel 2, on the Post It note on the left is a reference to Elon Spengler and the Wastebusters from the Earth Day Special.
External links
Gallery
Primary Canon
Secondary Canon
Community content is available under
CC-BY-SA
unless otherwise noted.