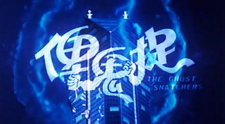 The Ghost Snatchers (俾鬼捉) is a 1986 comedy horror film. The film at one point was released with English subtitles, but is in Chinese language.
Introduction
This film seems to be loosely following the popularity of both Spiritual Kung Fu and Ghostbusters. It has a campy style to its comedy including making both main male characters perverted. It also has a strong dose of horror with a bit of gore. The effects are pretty low budget, include two scenes where the bats are clearly fake flying in the air. It includes a sex scene and nudity.
Plot
Characters
Ghosts
Gallery
Community content is available under
CC-BY-SA
unless otherwise noted.