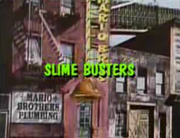 The Super Mario Bros. Super Show! episode: Slime Busters is an interesting parody of the first movie as they got Ernie Hudson to be the "Slime Buster" in it.
This parody is based on Ghostbusters the first movie and has Ernie Hudson there as a Slime buster. The Proton pack, P.K.E. meter, and the Trap look nothing like the movie suggesting copyright issues.
Plot
Mario and Luigi have a Slime issue and so they called the Slime Busters. Ernie Hudson apparently lost a coin toss and was sent to the place. By the time Ernie had gotten there, the Slime had taken Luigi in the other room. After a few moments Ernie goes in the right room to blast the Slime. Ernie runs out claiming it stinks in there. A minute later Luigi runs out too. and is shaking. In the second bit of the episode Ernie using a P.K.E. meter is looking for the Slime and Luigi is eating a plate. Slime starts appearing on the frig. Then they notice Luigi which is talking really weird. After the mario cartoon in the third part Luigi is laughing with an evil voice. Ernie zaps him and smoke goes everywhere. After the smoke clears Luigi seems ok, and the Slime went in a pizza pan and is begging Ernie to get it away from Mario and Luigi.
External links
Gallery
Community content is available under
CC-BY-SA
unless otherwise noted.