The Real Ghostbusters Toy line in the UK based on the The Real Ghostbusters. The toys themselves are direct copies of the American counterparts, however promotional work such as logos for lines, color schemes, and arrangement of toys shown on back of card were altered from the American version. The toy line is believed to have been released at about the same time as the American version unlike other releases in other countries/regions. The redesigns introduced in the UK line were also used for S.O.S Fantomes/Real Ghostbuster (French and Dutch version), German The Real Ghostbusters, and Gli Acchiappafantasmi (Italian version). In all cases the back cards were not altered as far as what toys were shown.
Description
The UK Toy Line ran from 1987-1990 and instead of having several waves per year had one instead. Four waves in all were released and they never sold the toys from the American tenth wave which was mainly the five Ecto-Glow Hero figures. Among the notable traits is the Lion seal on the back of the card.
List of Toys
First Wave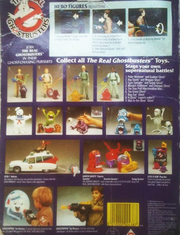 The UK first wave combines the first and second waves of the American version. The back card itself is almost the same as the American second wave back card with only a switch of Ecto-Plazm and the group photo of the Gooper Ghosts.
Second Wave
Third Wave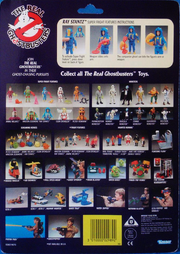 Fourth Wave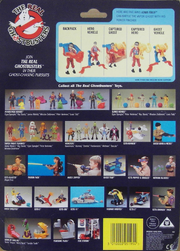 Translations
The UK design was also translated into French, Dutch, German, and Italian.
| | 1987 | 1988 | 1989 | 1990 |
| --- | --- | --- | --- | --- |
| English | X | X | X | X |
| French | X | X | X | X |
| Dutch | ? | ? | X | X |
| German | X | X | X | X |
| Italian | X | X | X | X |
| Spanish | | | | ? |
Trivia
Gallery
Community content is available under
CC-BY-SA
unless otherwise noted.