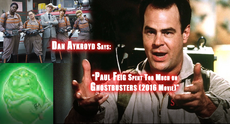 (Updated on June 5th 2017 at 4 pm central time)

For better or worse, Dan Aykroyd stated on Britain's Channel 4 (Sunday June 4th, 2017)[1]:
"The girls are great in it. Kate McKinnon, Melissa McCarthy, Kristen Wiig – what wonderful, wonderful players they are – and Leslie Jones. I was really happy with the movie, but it cost too much. And Sony does not like to lose money, they don't. It made a lot of money around the world but just cost too much, making it economically not feasible to do another one. So that's too bad."
Sony corrects Dan on EW's coverage the same night. From EW[2]:
After Aykroyd's statements, Sony confirmed the movie's reshoots — but said the price was between $3 and $4 million, not $30-40 million as Aykroyd stated.

"The budget and additional visual effects shoots were previously reported, and the studio had an incredible relationship with the director who was first rate"
Dan on Facebook on June 5th says pretty much the same as before minus the numbers[3]:

"Paul Feig made a good movie and had a superb cast and plenty of money to do it. We just wish he had been more inclusive to the originators. It cost everyone as it is unlikely Kristen, Leslie, Melissa and Kate will ever reprise their roles as Ghostbusters which is sad."

References
External Links
Community content is available under
CC-BY-SA
unless otherwise noted.