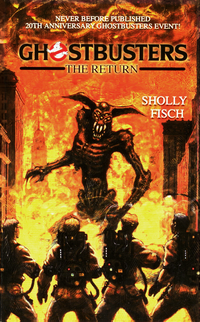 Wow, a lot was added to this project tonight by Paul Rudoff. Also, Richard Roy has started uploading NOW Comics. Here is what was added on Spook Central:
And on EctoContainment.com the first two NOW Comics (The Real Ghostbusters Vol 1 Issue 1 and The Real Ghostbusters Vol 1 Issue 2) are up on the newly made section Comics.
There is a lot here tonight to talk about, and yes most of the items had my hands in them in some sort of way. In some ways, this is my "contribution" to the GB community other than this great wiki. Three of the items, Ghostbusters:the Return, GBII novel, and GBII coloring book; are time consuming projects all by themselves. Maybe a good three months worth of cleaning scans and fixing scanning errors.
The reason behind all this is because in most cases, the materials that are being covered are becoming harder to find and costly to get. This project is to help fans that don't have the funds or came along late in the game so to speak. The Preservation Project is just for that, to keep the history of ghostbusters available for future generations.
Currently, both Spook Central and Ghostbusters International/Ectocontainment are participating Ghostbusters PDF eBook Preservation Project. Ghostbusters Wiki is on supporting terms with the project. (As if that wasn't clearly shown already.)
Anyways, Check out both links:
Community content is available under
CC-BY-SA
unless otherwise noted.