We have over the last month been very active in the Ghostbuster Community reading about the new Matty and Diamond Minimate toys, which have been either very interesting or a bore depending on who you are and your tastes. But here at Ghostbusters Wiki, all month we have found ourselves remembering the toys of old in what seems to be three revisits.
I find it a bit funny that we find ourselves in the forefront of old toys, as our site never pushed the merchandise section all that much. But here we are with 3 exclusives in a row: Kenners The Real Ghostbusters unreleased toys, Jocsa reproduce Kenner line, and Extreme Ghostbusters Garrett Miller Prototype.
The first was the Garrett Miller Prototype images, which were provided by Jonathan Shyman a Trendmaster Prototype collector. The figure seemed most likely made to be part of the Deluxe line, through that is only speculation and we may never know. A good recap was also done by Ghostbusters News was also done here.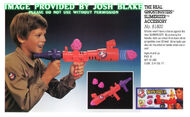 Next we got Egon Lab prototype, and scans of "Kenner 1991: Hot, Hot, Hot" retailer catalog, which had information on unreleased toys. Two of which were not even included in Tomart's Action Figure Digest #92. All these images were provided by Josh Blake, a Kenner memorabilia collector. A good recap was also done by Spook Central was also done here.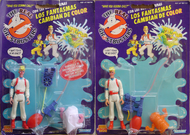 Now all this brings us to the final of the three, the Jocsa line of reproductions of Kenners The Real Ghostbusters. While much was already known about the line, hardly no images of them were ever seen other than the Argentina markets. Thanks to the ebay store Argentostore, we now can get good close ups of many of the line to see. Much was learned about the special Slimed Heroes Variant line, including that there were two runs with changes made on the second. So to really dedicated fans, there are eight, not four to collect. Many of which Argentostore has for sale still by the way.
So that is a quick recap of what all Toy related has been posted.
Community content is available under
CC-BY-SA
unless otherwise noted.