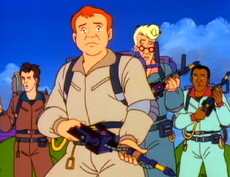 Ooooo.....kay. We had to do some rather major changes the last week to the wiki. I want to quickly note them in this blog so it is known to the public (Yes, I'm going to share this blog on social media). Ten days ago or so, I was informed that no one was able to see the No Name Template. That was a issue because a ghost in question, they thought was named a official name, when it was not. The reason for the problem, as it turns out, was the the mobile skin Fandom has, turns off the Notice templates because they assume that those are only for editors and as of writing this blog, no one can edit in the mobile skin mode.
So, the wiki was facing a dilemma; "What can be done about this?". Ultimately, the choice became clear that since infoboxes are not blocked by the mobile skin, so that be where the information would be moved to. This was not a happy change, as this forces the reader to look for the images in the infobox. But hey we gotta make sure everyone reading the articles knows.
We are still migrating things, but this change will be complete in a couple days. We hope that everyone can now see the notices in the infoboxes that note a article with no official name and or a article that is spoiler free because of the spoiler policy.
The images used as notices:
Community content is available under
CC-BY-SA
unless otherwise noted.