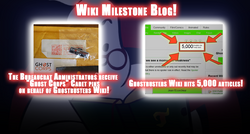 Two major milestones to report. The first is that both Mrmichaelt and Devilmanozzy have received Ghost Corps Cadet pins along with a letter and free Classic Ecto Minis Blind Bag (by Mattel). Both letters thank staff of Ghostbusters Wiki for dedication and support of the brand. Both letters by Eric Reich (Executive to Ghost Corps).
Update, the Wiki has also received the Official Franchise Certificate.
---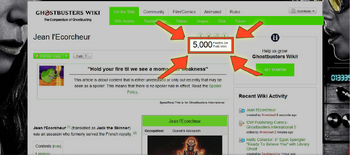 Second is the 5,000 article count milestone that was reached by Mrmichaelt with the article "Jean l'Ecorcheur", which he made while doing his run of edits for Ghostbusters International #5. Many thanks again to Mrmichaelt for covering the IDW series.