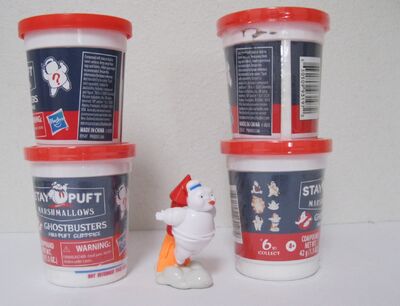 Hasbro continues its roll out of new merchandise in fall 2021 leading up to the theatrical release of the Ghostbusters: Afterlife movie on November 19. The Hasbro Ghostbusters Mini-Puft Surprise cans is a gooey surprise for collectors trying to find all the Mini-Pufts figures, literally and figuratively...
The official description from Hasbro is:
MINI-PUFT SURPRISE CANS
Ages 4 and Up
Approx. Retail Price: $5.39
Choose the smallest, most collectible method of your destruction with the Ghostbusters Mini-Pufts Surprise figures from Hasbro. Detailed to look like characters from the 2021 Ghostbusters: Afterlife film, each series of 1.5-inch Mini-Puft figures is inspired by the original Stay Puft Marshmallow Man but comes equipped with new mischievous personalities from the movie. Kids and collectors alike can open the Stay Puft Marshmallow can and dig into the goopy marshmallow-like compound to see which Mini-Puft figure is inside.
With multiple blind waves and six unique figures per wave for the Ghostbusters Mini-Pufts Surprise figures, boys and girls can collect them all! Available at most major retailers nationwide.
The Mini-Puft Surprise Cans instantly took me back to the 1980s when I was a child playing with Kenner's Ecto-Plazm, each containing "ectoplasm" and a ghost figure inside. I loved it but my parents weren't as keen on it being all over the carpet and couch nor did they see it as artistic expression. Instead of standard ectoplasm, each Mini-Puft Surprise Can is filled with some faux marshmallow in place of the Stay Puft Marshmallow Man's destructor manifestation residue for safety reasons of course. Wink wink. Within each can's residue is a bag containing a random Mini-Puft figure. Each can has a design and color scheme inspired by the Stay Puft Marshmallows brand: the red, white, and blue. As a bonus easter egg, there's an additional graphic on the can if you peel the wraparound graphic off. When you go into a physical store, they are usually sold in a tray of 12 cans. While the spirit of this release is akin to the blind bags, if you look on the white trim near the red lid – there are serial codes. The last three correspond to a certain Mini-Puft. N01 is the Melted Mini-Puft, N02 is the Mini-Puft Eating Chocolate, N03 is the Mini-Puft with Drum, N04 is the Rocket Mini-Puft, N05 is the Mini-Puft on Fire, and N06 is the Mini-Puft with Pencil. In the near future, there will be a wave 2 and 3 with the other 12 figures: one in a cup of hot chocolate, two stuck to each other, one that played with makeup, one with a hole in its gut, one charred black, one eating ornaments, one trying to puff itself up, one turned into s'mores, one wrapped up in Christmas tree lights, one posing under a paper umbrella, one with a stick through it, and one partially eaten.
Unpacking the figure is very, very messy. It is recommended for parents to do this and never leave a can alone with a child. The most practical thing to do is the line the kitchen sink with several paper towels or foil then don a pair of disposable gloves. Get ready to dig out the bag out of all that gooey and sticky goodness. Pull as much goop off the bag. Switch to another pair of gloves and cut a hole in the bag then safely pull the figure out. Got to say, hope no houses this Halloween get pelted with the stuff. Eggs and toilet paper all the way. Either due to stricter hazard regulations or Hasbro having a change of heart, the Mini-Puft Surprise Cans are just blind bags in foreign markets.
Overall, it was a less than pleasing experience. On paper, I'm sure this was a great idea. It checks off a lot of nostalgia points. But someone didn't really account for what would happen to the faux marshmallow over time. I hope the foreign market release is an indication that future waves will adopt a literal blind bag format moving forward. As for this review's publishing, the second wave of surprise cans are slated for December.
This product was provided by Hasbro for free for review on the Ghostbusters Wiki.