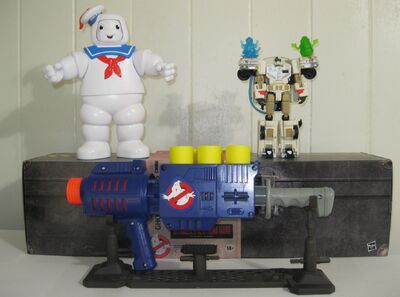 Hasbro has kicked off 2021 with another Ectotron release to promote the upcoming Ghostbusters: Afterlife movie. Back in 2019, Ectotron was the product of a collaboration between Sony and Hasbro to create a brand new character for the Transformers and Ghostbusters mythos. The Autobot scientist Ectotron then made his debut in a crossover comic book mini-series from IDW Publishing aptly titled "Transformers/Ghostbusters: Ghosts of Cybertron."
The official description on Walmart's website is:
MORE THAN MEETS THE EYE: Transformers robots have always been: More Than Meets the Eye, but now, through the Transformers Collaborative, fans can experience these larger than life characters as they team-up, mash-up, and meet up with other characters, teams, and people who share this same special quality
ECTO-1 CONVERTS TO TRANSFORMERS ROBOT: Convert Ecto-1 Cadillac mode to Ectotron robot mode in 22 steps
GHOSTBUSTERS AFTERLIFE-INSPIRED FEATURES: The Ectotron Ecto-1 figures comes with Slimer and Muncher ghost figures, as well as a Proton Pack accessory
G1-INSPIRED PACKAGING…WITH A LITTLE GHOST OOZE: Features Afterlife Tech Specs showing the capabilities of Ectotron, including strength, speed, and bust-abilty. Figure also features an updated head sculpt, including updated Ecto-Goggles inspired by Ghostbusters: Afterlife
CROSSOVER COMIC BOOK: Includes a copy of issue number 1 of the Transformers Ghostbusters Ghosts of Cybertron comic book from IDW Publishing, featuring an exclusive cover
Description: The worlds of Transformers and Ghostbusters collide through the Transformers Collaborative! It's the world of Transformers...and Ghostbusters...a world of heroic Autobots, evil Decepticons...and ghosts!
The iconic Ecto-1 Cadillac from the Ghostbusters: Afterlife movie is now a Transformers robot called Ectotron! The Ectotron figure converts between Ecto-1 and robot modes in 22 steps, and comes with a Proton Pack and Blaster accessories, Slimer and Muncher ghost figures, and issue number 1 of the Transformers Ghostbusters Ghosts of Cybertron comic book from IDW Publishing, featuring an exclusive cover. The figure also features an updated head sculpt inspired by Ghostbusters: Afterlife.
Transformers and all related characters are trademarks of Hasbro.
TM & © 2021 Columbia Pictures Industries, Inc. All rights reserved. Cadillac and all related Emblems and vehicle body designs are General Motors Trademarks used under license to Hasbro, Inc. Hasbro and all related terms are trademarks of Hasbro.
Figure scale: 7 inches
Includes: Ectotron figure, Slimer figure, Muncher figure, 2 accessories, and instructions.
Ages 8 and up
Warning: Choking Hazard - Small parts. Not for children under 3 years.
Specifications:
Dimensions (Overall): 12.5 Inches (H) x 9.5 Inches (W) x 3.19 Inches (D)
Suggested Age: 8 Years and Up
Weight: .74 Pounds
Material: ABS (Acrylonitrile Butadiene Styrene), Plastic
Street Date: January 1, 2021
UPC: 5010993757596
The "unboxing" process may take a couple minutes, especially if you're the type that wants to preserve the cardboard backing as well as possible without creating any tears. Notably, the first Ectotron was boxed. Most likely, it is carded because of the exclusive comic. There doesn't seem to be any other reason. There's the 2021 Transformers/Ghostbusters collaboration label on the front and an updated Ecto-1 image with the one in the upcoming Ghostbusters: Afterlife movie. There is tape on both sides that you peel down and if done very slowly, it is possible to avoid damaging the cardboard. Or use a box cutter. Then you just have to cut up the plastic straps and slowly push the figures and accessories out. In addition to a Slimer figure, there is also a figure of Muncher, the new ghost in Afterlife. The back of the card essentially is a reuse of art and what not from the first Ectotron release.
The Ectotron figure has a few cosmetic differences from the original Ectotron. He has been dulled to aged white to match the old Ecto-1 in Afterlife. The hood of Ecto-1 that becomes Ecto's shoulders bear the rust marks. Though oddly, the rust is nowhere else on the figure. The Ecto Goggles is also changed to match the Polaroid modified pair in Afterlife. Ecto also has a mouth guard for some reason. The chest plate is silver instead of khaki and his pistol belt is now khaki instead of silver. In vehicle mode, it was nice to see the No-Ghost logo is also aged. And unlike the original Ectotron release, the rear of Ecto-1 also has the logo now. The ladder is moved to the left just like the car in Afterlife. The Slimer figure seems a bit darker than the Slimer in the original Ectotron toy. However, it's unfortunate final paint was not applied to it like the Slimer that came in the Transformers/Ghostbusters Optimus Prime toy. While Ectotron hasn't changed too much, there's more to appeal to Ghostbusters collectors. This release includes the first Muncher figure and has an exclusive variant cover for Transformers/Ghostbusters Issue #1 that cannot be bought in comic shops or anywhere else for that matter.
It was great to have the arms be rather articulate but not so much for the legs. It took some doing to get Ectotron to stand, even with the heel supports because the legs were so loose. The vehicle mode was frustrating to complete primarily because of the blue electrical loom tubing. I for the life of me could not get those tubing into the 3 notches nor get them to stay in. Just the notion of having to wrap part of it around the base of the roof rack in order to connect it to Ecto-1 felt precarious in of itself. For a second release, I would have thought these design flaws would have been improved upon.
The big draw for general fans is this would have been a second chance to get an Ectotron for those who missed out the first time. However, those that really wanted it had to pre-order it late last year right when it was listed. The Target exclusivity of it and online scalpers gobbled up this release fairly quickly, too, and anyone still wanting one will have to keep checking their local stores for restocks because they are showing up on shelves. Don't resort to exorbitant prices on the resale market if you don't have to!
This release definitely appeals to the hardcore Transformers or Ghostbusters collectors who wouldn't balk at owning both Ectotron releases. For display purposes, I can see the appeal of having one Ectotron standing next to another Ectotron in vehicle mode. At a $60 price tag, I am remiss to think it is catered to anyone else. Still, this release hits a rare trifecta of mass appeal for Transformers fans, for Ghostbusters fans, for Ghostbusters comic book fans, and for Ghostbusters: Afterlife movie promotion so you may want to consider splurging on a once in a lifetime release.
This product was provided by Hasbro for free for review on the Ghostbusters Wiki.
Community content is available under
CC-BY-SA
unless otherwise noted.