Welcome to Ghostbusters Wiki!
I'd like to Welcome you to the Ghostbusters Wiki! Thanks for your contributions.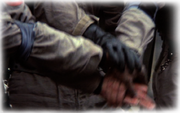 We strongly ask you sign up to Wikia before continuing to edit here. While you may be able to edit, if there is a disagreement with your edit, we will assume you can't defend your edit which then by default you will lose a given debate. Also, there are no warnings for failing to follow policies at this wiki if you are a IP User which then by default you may be banned.
I suggest if you have not yet, to read the Introduction page, which is created to help out new editors like yourself learn to ropes, and what is and is not allowed here.
Please leave a message on my talk page if I can help with anything! -Devilmanozzy
---
This is the discussion page for an anonymous user who has not created an account yet, or who does not use it. We therefore have to use the numerical IP address to identify them. Such an IP address can be shared by several users. If you are an anonymous user and feel that irrelevant comments have been directed at you, please create an account or log in to avoid future confusion with other anonymous users.