Welcome a Board!
I like to Welcome you to the Ghostbusters Wiki! Thanks for your contributions.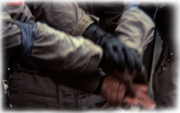 A few tips for this wiki:
Please remember to sign your name on discussion pages by typing ~~~~ which automatically adds your signature and the date.
Please read the Community Portal (Updated Feb, 06 2009) to know what is expected.
Before making a new page use the search bar, or topic on the front page of the wiki and search for it, in case its already made.
Please leave a message on my talk page if I can help with anything! Devilmanozzy
Slimer! Episodes
The comments were moved to Talk:Slimer! Season Guide. However, I agree with them, but no one lists the episodes right, so theres no way to know the right way to list them.Devilmanozzy 21:26, 28 June 2009 (UTC)
---
This is the discussion page for an anonymous user who has not created an account yet or who does not use it, identified by the user's numerical IP address.
Some IP addresses change periodically, and may be shared by several users. If you are an anonymous user, you may create an account or log in to avoid future confusion with other anonymous users. Registering also hides your IP address.
Help: Why create an account? • How to create an account • WHOIS
Community content is available under
CC-BY-SA
unless otherwise noted.