Welcome a Board!
I like to Welcome you to the Ghostbusters Wiki! Thanks for your contributions.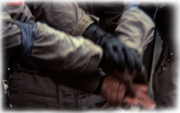 A few tips for this wiki:
Please remember to sign your name on discussion pages by typing ~~~~ which automatically adds your signature and the date.
Please read the Community Portal (Updated Feb, 06 2009) to know what is expected.
Before making a new page use the search bar, or topic on the front page of the wiki and search for it, in case its already made.
Please leave a message on my talk page if I can help with anything! Devilmanozzy
I have opened a very important Forum Discussion on this topic, and I badly need input by all who add content to this wiki about it. Thank you! Devilmanozzy (Talk Page) 00:33, March 12, 2010 (UTC)
Gozer edit
Your Gozer edit was rolled back. It was in the wrong section. You placed it in the Side B info taken directly from Gozer's ghost card in Ghostbusters: The Board Game. Speaking with the other administrator, we are discussing whether this edit should restored elsewhere to trivia or where ever. Mrmichaelt (talk) 01:55, July 20, 2016 (UTC)
Community content is available under
CC-BY-SA
unless otherwise noted.