Welcome to Ghostbusters Wiki!
I like to Welcome you to the Ghostbusters Wiki! Thanks for your contributions.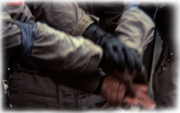 I suggest if you have not yet, to read the Introduction page, which is created to help out new editors like yourself learn to ropes, and what is and is not allowed here.
Please leave a message on my talk page if I can help with anything! Devilmanozzy66.192.234.74 18:24, 19 May 2009 (UTC)
Template issues
Category:Templates seems to be getting none template pages. It looks to be a error in coding for the Film template, level template as far as I can guess. Anyways, I can't seem to get the templates to work without setting articles in template category. Could you help? Devilmanozzy 18:48, 24 May 2009 (UTC)
Yeah apparently Winston is now a doctor.Devilmanozzy 17:43, 26 May 2009 (UTC)
My bad! I'll stop reverting that edit. — Joe (talk) 17:45, 26 May 2009 (UTC)

Hey it's ok. Yeah its odd Winston is now a doctor. Devilmanozzy 17:48, 26 May 2009 (UTC)
Community content is available under
CC-BY-SA
unless otherwise noted.