Welcome a Board!
I like to Welcome you to the Ghostbusters Wiki! Thanks for your contributions.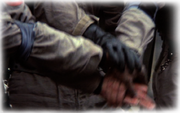 A few tips for this wiki:
Please remember to sign your name on discussion pages by typing ~~~~ which automatically adds your signature and the date.
Please read the Community Portal (Updated Feb, 06 2009) to know what is expected.
Before making a new page use the search bar, or topic on the front page of the wiki and search for it, in case its already made.
Please leave a message on my talk page if I can help with anything! Devilmanozzy
Turlock does not appear in the show
The picture you posted was of Toy Ghost which had apparently ran Turlock out of the old abandoned toy factory. Anyways I'll move the picture to the Toy Ghosts page. Devilmanozzy (Talk Page) 02:03, June 24, 2010 (UTC)
Where is Turlock?
Okay, I inserted that picture because when I was teenager, I watched the very first episode of The Real Ghostbusters. I always thought that the Toy Ghost actually was Turlock. There was no full explaination of why Turlock was gone from the Toy Factory. My bad.

Loosecannon540 02:16, June 24, 2010 (UTC)
It ok. Done many mistaken guesses myself.

Devilmanozzy

(Talk Page)

02:26, June 24, 2010 (UTC)
About Lotan
Yes, Egon did say in Robo-Buster that ghosts could only be contained, but there were some exceptions. Gozer, Vigo, Count Von Blukenporken, and Tenabrog were all destroyed, but they never came back. Now, I do understand where you are going. In his third appearance in the NOW comic book, Samhain was destroyed, but appears in the Extreme Ghostbusters intro and end credits, which would infer that he was somehow resurrected and restored to the Containment Unit(though I personally don't think that all of the comic stories are canon). The only thing that disproves your theory is that there were some ghosts in all Ghostbusters continuities that were destroyed, but never returned.
SonofSamhain 13:33, June 24, 2010 (UTC)
I think it depends on the type of entity. Some of solid manifestations, some are more like typical ghosts, some are ghost attachments and so on. However, the animated Canon does go by different rules.

Devilmanozzy

(Talk Page)

06:18, June 25, 2010 (UTC)
Scaredy-Cat Ghost played by Charlie Adler.
Great work. No wonder his voice sounded so familiar.
SonofSamhain 05:25, September 21, 2010 (UTC)
Removing (some) images you uploaded
I don't think rules were in place when you uploaded the images I see, but we do not permit images from other sites uploaded here Image Policy.  Devilmanozzy (Talk Page)  10:42, November 1, 2011 (UTC)
Community content is available under
CC-BY-SA
unless otherwise noted.