2017 archived talk page discussions.
---
Marduk and Tiamat
Hi Mrmichaelt ...Thanks for resizing the photo for me on the Marduk entry page. I wanted to know if I could post a photo of an illustration from other media depicting Marduk Versus Tiamat on there as well? I conducted an interview with Richard Meuller, member of the Writer's Guild of America, writer of this episode "I Am The City" featuring Marduk, as well as the TOR book novelization of the 1984 Columbia Pictures motion picture "Ghostbusters" aka "Ghost Busters" he informed me one of the inspirations for the design of the characters came from an illustration from a Dungeons & Dragons manual: Deities & Demigods. I have a copy of the drawing (which should be at the correct size.Would this be permissable Frapsap (talk) 10:08, January 10, 2017 (UTC)Frapsap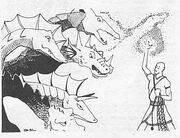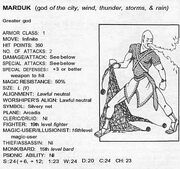 The fact that you don't accept imdb as a source for voice actors on The Real Ghostbusters program is very interesting and perplexing to me. let me ask you a few questions here. First of all, do you doubt that Stanley Ralph Ross voiced the character in this episode? Secondly, Do you believe Mr. Ross's imdb page (one place where this information is provided, certainly not the only one) is somehow falesified or dubious information? What sources do you accept, so I'll be better able to sight my source information on all my future entries. I'm trying to act as an asset to this wiki by making contributions so that it stands as a more comprehensive database. Frapsap (talk) 05:04, January 16, 2017 (UTC)frapsap
Hello!
Hi, Mrmichaelt/Archive 8! I'm TheDisneyFan2001 and I'm semi-new here to the Ghostbusters Wiki! I hope to edit here lots but it already seems like you got the Wiki under control! I can edit some stub pages if you can link me to them! Thanks and I hope that I see you around! :)
Request
Hi, I have request. Do you know this actor? http://vignette2.wikia.nocookie.net/stargate/images/3/30/Rand_Protectorate_Guard_3.png/revision/20161016092758
--Matthew Bowyer Fan (talk) 12:42, January 26, 2017 (UTC)
Ok, thanks. --Matthew Bowyer Fan (talk) 12:39, January 27, 2017 (UTC)
Hob SFX
Your edit of the Hob Anagarak trivia was removed. They couldn't have possibly used audio from a 1989 movie for an episode that first aired in 1987. Mrmichaelt (talk) 10:25, October 23, 2017 (UTC)
Community content is available under
CC-BY-SA
unless otherwise noted.