Welcome to Ghostbusters Wiki!
I'd like to Welcome you to the Ghostbusters Wiki! Thanks for your contributions.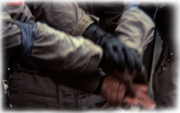 I suggest if you have not yet, to read the Introduction page, which is created to help out new editors like yourself learn to ropes, and what is and is not allowed here.
Please leave a message on my talk page if I can help with anything! -Devilmanozzy
Hotel manager Edit
Just to clarify why your edit was undone. We have strict spoiler policy. For comics, we don't allow anything from a comic to added to this wiki until 4 months from the release date. Case in point, Year One #1 released today so nothing can be added until May 22. Please familiarize yourself with rules and policies. Links to them are kept at the drop down menu at the top of the screen labeled "Community/Rules". Mrmichaelt (talk) 23:03, January 22, 2020 (UTC)
I hardly think the man's name alone constutes a spoiler...RampantFury223 (talk) 03:09, February 3, 2020 (UTC)

That's your opinion and that's fine but rules are rules. Beside that point, you added the name incorrectly. It's not his name in the original movie continuity, so this would be in the aka section of an infobox only and not the top line.Mrmichaelt (talk) 04:06, February 3, 2020 (UTC)
Community content is available under
CC-BY-SA
unless otherwise noted.